works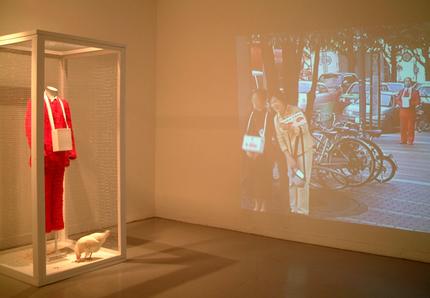 For me, for you
2004
赤い羽根、スーツ、木、金網、マネキン、鉄、アクリル、シャツ、綿ひも、硬貨、
ニワトリ、鶏の餌、水、ニワトリのフン、紙箱、プロジェクター映像(8分) など
サイズ可変、(H)220 x (W)113 x (D)113 cm(立体部分)

For me, for you
2004
Red colored feather, Suit, Shirt, Wood frame, Wire netting, Mannequin
Hen, dropping, Water and hen feed in acrylic resin case, Coins, Video (8min). Projector
demension variable, (H)220 x (W)113 x (D)113 cm (solid part)



 街を歩いていると、しばしば街頭募金を目にすることがある。
 募金をすると赤い色の羽根がもらえるというものがある。集まったお金は災害や福祉活動に役立てられるそうである。人々は募金の用途もわからぬまま習慣的に募金をし、その羽根を誇らしげに胸や帽子に付けて街を歩く。そしてその羽根を付けている人を見ると、つい良い人に見えてしまう。
 私は赤い色の羽根でスーツを作り、街頭で私的な募金活動を行った。私的な募金であることはいっさい口にせず、ただ首から白い箱を下げ、他の募金活動を行っているボランティアの人々の後ろに立って行った。

 On the street in Japan, there is a campaign to raise funds in which people who donate money receive a red feather. I heard that the profits are used for disaster and welfare work. But, it is doubtful whether everything is effectively used. I suppose that many people raise money from habit without knowing the purpose of the fund-raising. The people walk around town vauntingly with the feather in their hat or jacket. Besides I inadvertently think them to be a good person.
 I produced this suit made of red- feathers for a campaign to raise private funds on the street. Wearing the unmarked white box, and without saying private funds. I stood behind the real "Red Feather Campaign" volunteers.
 The video shows alternately people raising money not knowing the purpose, and a man wearing a suit takes care of hens. The video ends with a scene of a man buying hen-food by using the profits.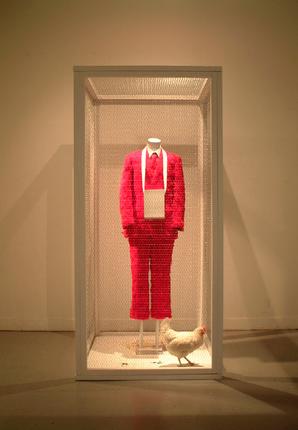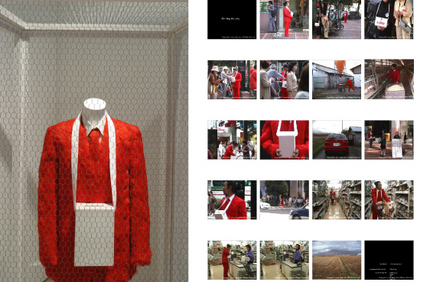 ※下の >next ボタンで動画サンプルがご覧頂けます。(要QuickTime)

> next